Museum Rijswijk
Herenstraat 67
2282 BR Rijswijk
info@museumrijswijk.nl
070-3903617
Except for two cellars, the museum is completely wheelchair accessible.
Visiting hours
Tuesday to Sunday: 11 AM - 17 PM
Closed on Easter Sunday, King's Day, Christmas and New Year's Eve/Day.
Corona measures
Required: social distancing!
NOT required: masks, reservations, negative test result, proof of vaccination, proof of recovery or any other kind of Corona ticket.
Prices
You can reserve your tickets here!
| | |
| --- | --- |
| regular | €10,00 |
| >65 | €7,50 |
| student | €5,00 |
| <18 | free |
| Museumkaart | free |
| Rembrandtpas | free |
| ICOM card | free |
| group ticket | €7,50 p.p. |
| premium Biennale | €5,00 |
Continue scrolling to view our exhibitions and news!
____________________
IAN BERRY
SPLENDID ISOLATION
ART IN DENIM
1 DECEMBER 2020 | 15 AUGUST 2021

Main sponsor of Ian Berry. Splendid Isolation.
You can order your tickets here!
U.K. artist Ian Berry (Huddersfield,1984) has been making virtuous figurative paintings and installations of denim for over 15 years. He uses discarded jeans, cuts them up into pieces and sorts according to hue like a painter places his color nuances to his palette. At first glance the work seems two-dimensional, but when you zoom in, you can see how different layers of denim are placed on top and over each other. The 'paintings' are in fact denim collages so perfectly put together. They are almost impossible to distinguish from a realistic painting.
Ian Berry is a socially committed artist. With his work he responds to topical developments in society. His work is made of denim not only because he likes the material, it is as well because the textile industry is one of the most polluting industries. In his work he asks attention for this. In 2019, Ian Berry was proclaimed one of the 50 most influential people in the denim industry in the world.
In response to the lockdown in the UK, Ian Berry started the international photo project Stay Behind Closed Doors on his website. He called out to professionals and amateurs to send in a photo that depicts what the lockdown means to them personally. A selection of these photos will be exhibited at the show.
Download the full press release here.
My Secret Garden
Secret Garden is the Hanging Garden of Eden done in denim. We invite everyone to come pose in it and share their pictures!



____________________
Cross-links
Collecting for the future
1 DECEMBER | 24 JANUARI 2021
The exhibition Cross-links shows a generous selection of objects that were acquired in the last ten years to be part of the heritage collection of Museum Rijswijk. It illustrates not only the how and why of heritage collecting but more importantly its aim to amaze and to enthuse the visitors with this vast number of historical objects that are still of relevance today. On view are photographs, drawings and paintings but also advertising designs, books and artisanal and industrial products. Each of those objects has its own story to tell but the design of the exhibition emphasizes the cross-links between the objects.
It gives the history of Rijswijk an unexpected variety and depth. From december visitors are welcome to /DOC. Accomodated in the former museumcafetaria in the new wing of the museum, this is where laymen and professionals can study or just browse a large number of books on paper and textile art and of course the extensive Rijswijk library. And comfortable chairs facing the gardens for those who just want a little repose from the visual impact of the current exhibitions.
____________________
TEXTILE BIENNIAL 2021. FOOD FOR THOUGHT
29 AUG | 16 JAN 2022
The 6th edition of the Textile Biennial is on show in Museum Rijswijk. It is the first time that the Textile Biennial has a distinct theme. The current turbulent time calls for an exhibition with socially engaged artists and an extra substantive dimension. The current topic of the Textile Biennial 2021 is Food for Thought. Twenty artists show their vision on food production and consumption. Many artists worldwide are working on the subject of food and this exhibition shows an interesting selection of them. There are four sub-themes: Abundance & Discomfort, Inquisitive & Activist, Identity, and Comfort/Punishment/Sin/Penance.
When choosing the works of art, the emphasis is on the impact of the works and the visual quality. In previous editions, the emphasis was on craftsmanship and technique that artists used to create special works of art from textiles. Textile is and will remain the binding factor in all contributions this year. Some works are deadly serious, others humorous. Many artists show an enormous social sensitivity, some make an inviting gesture towards the viewer with their work. Four artists are attending with a participation project, and ten artists are creating new work especially for this Biennial.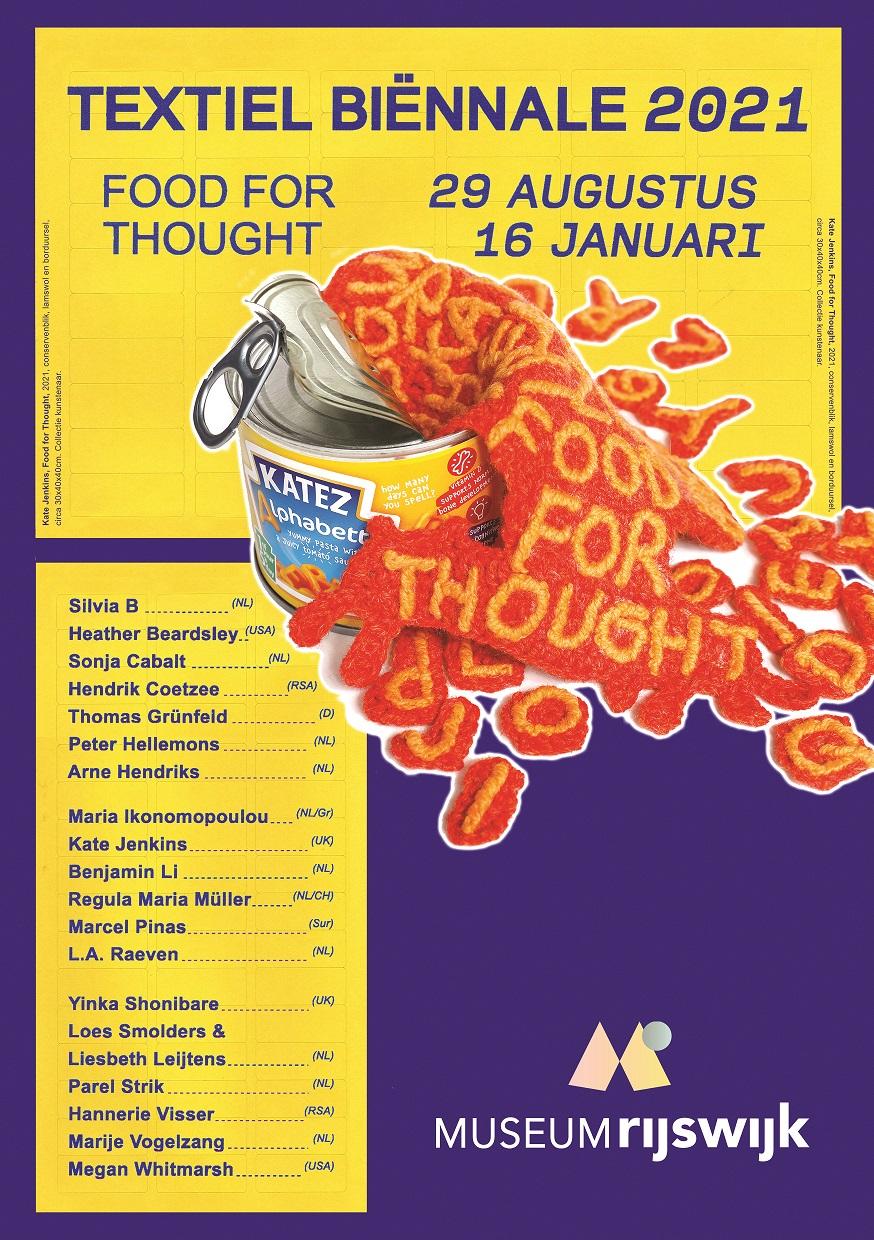 ____________________
OPEN CALL PAPER BIENNALE 2022. LET'S DREAM!
Deadline September 1, 2021
The Paper Biennial 2022 (June 26 - November 13) is an international exhibition of high-quality and substantive contemporary visual art in which paper as a material plays the leading role.
Theme: Let's dream!
The theme of the Paper Biennial 2022 is Let's dream!. It is current and timeless at the same time. Recently, our freedom of movement has been forced to be extremely limited and this has had far-reaching consequences on many fronts. The lack of perspective in a longer period of time has hit us hard. The need to create space and freedom within yourself is enormous at the moment, to keep dreaming despite everything and thus create your own perspective.
The Paper Biennial 2022 will show the many interpretations and meanings of dream wishes that artists give to them in their work. We ask for personal views that are easily understood by everyone and that are socially engaged.
The sum of visions on the theme Let's dream! are testimonies of the need for optimism, freedom of movement and limitless thinking.
We invite artists who work with paper as their main material and are committed to the theme Let's dream! We cordially invite you to send an email to Diana Wind, curator of the Biennial before September 1, 2021: dianawind@museumrijswijk.nl. Send a maximum of 10 low resolution images (jpg or pdf only) as an attachment. Before October 1, 2021 you will receive a message from Diana Wind whether you will be invited to participate in the Paper Biennial 2022.
____________________