2019 Rijswijk Textile Biennial
18 June | 6 October
Museum Rijswijk is hosting the 6th Rijswijk Textile Biennial. New and vintage go hand in hand as 22 artists explore the past and present: in their use of applied techniques and materials, as well as in their choice of subjects. This makes the 2019 biennial both current and a fitting descendant in a series of strong shows.
Computers and the internet have become a valued, fixed part of our daily lives and they have also gained ground in contemporary art practices. Kayla Mattes 'archives' fleeting pictures from the internet by way of time-consuming weaving. Apart from the shared structure (the binary and warp & weft), she also sees a cultural link: tapestries have traditionally documented culture. Totally different approaches to the combination of 'digitalism' and weaving can be seen in Kata Unger's and David B. Smith's works. The one manifests a whirlwind of connotations through self-dyed wools in breath-taking colours, the other manipulates with soft and flexible sculptures.
Just as in the Textile Biennial of 2017, the majority of these artists make work that comments on contemporary issues. Australian Paul Yore expresses through activism. His appliquéd placards protest and comment on issues of gender, abuse by the Church, consumerism and white superiority ideologies. His compatriot Paula do Prado looks through the eyes of an insider and outsider at colonialism, racism and, especially, that which connects.
Letting materials speak – in particular those with a past – can be achieved in several ways. Mark Newport creates beautiful mending samplers, in which traditional methods raise the weaves to new levels. They symbolize the scars that life has in store for us, in spirit and body. Lawrence Bailey's appliquéd banners represent frayed urban edges, and nature as scarred by humans – the very same who will disappear into a black hole.
These artists work in big gestures and in intimate ways that express the universal. Museum Rijswijk presents a kaleidoscopic cross section of fibre arts in this prominent international exhibition.
Accompanying the Rijswijk Textile Biennial 2019 is an illustrated catalogue (Dutch/English), penned by Frank van der Ploeg.
On Sunday 15 September there will be a big fabric market outside (11 a.m. – 5 p.m.).
Participating artists Rijswijk Textile Biennial 2019
Download here the complete press release.
Download here the poster of the exhibition.
Download here the list of participating artists.
Download here below the press photos:
Lawrence Bailey, 'Comin Down'', 2018, vintage fabrics, embroidery. Photo: L. Bailey
Lawrence Bailey, 'REJOICE', 2017, vintage fabrics, embroidery. Photo: L. Bailey
Ana Barboza Gubo, 'Forest Fabric', 2018, digital photo, textiles, Photo: A. Gubo
Nigel Cheney, 'Family Portrait', 2017, vintage fabrics, embroidery. Photo: N. Cheney.
Nigel Cheney, 'John Cheney', detail 'Family Portrait', 2017, vintage fabrics, embroidery. Photo: N. Cheney
Max Colby 'Capricious', 2018, textiles and beads. Photo: M. Colby
Max Colby, 'Untitled', 2018, hand embroidery on original Blue Boy Magazine photograph. Photo: M. Colby
Josefina Concha, 'Sempiterno', 2016, textiles machine embroidered: Photo: J. Concha
Paula do Prado, 'Genesis', 2018, textiles, beads, seeds. Photo: P. do Prado
Elizabeth Fram, 'Espresso & Peanut Butter' 2018, shibori, embroidery on silk. Photo E. Fram
Lia de Jonghe, 'Untitled' 2018, vintage textiles, embroidery. Photo: Edo Kuipers
Higi Jung, 'WhereAreYou' 2017, textiles, filling. Photo: H. Jung
Kayla Mattes, ' I WILL NOT', wool, acrylic, cotton, handwoven: Photo: K. Mattes
Mark Newport, 'Mend 12', 2017 embroidery on muslin, Photo: T. Thayer
David B. Smith, 'Witness', 2018, cotton, acrylic, polyester and hemp. Photo: D.B. Smith
Kata Unger, 'The forecasters', 2016, handwoven silk, wool: Photo: Nora Lina Merten
Paul Yore, 'Let Us Not Die From Habit, 2018, textiles, found materials, beads, Photo: P. Yore
Bhakti Ziek, detail 'Sisyphus Emoticons', 2015, handwoven silk damask, Photo: B. Ziek
________________________________________________________________________________________________
Wolzak & Kosters serious international busisness
Museum Rijswijk opens the first duo-exhibition of Preta Wolzak & Bas Kosters.
12 Februari – 31 March 2019
The urgent need to create, connects. Both artists have their own unique view of the world: one from within self-love, the other from adoration of militant women and their protests against injustices in this world.
"It's about the craziness of mankind. I think, there must be places in the world that are free from all the bad deeds of man. "-Wolzak
With her art, Wolzak points a finger at the exploitation of the pristine polar region and the unknown women who fight to preserve the lands. Her protest takes place in the form of leather, sequins and embroidery on canvas, on a background of photographic and drawn images.
A similar protest can be found in her portrait series Ma Petite Inuit, of the original inhabitants, the first victims of climate change and tourism. The Bèta Angels series is a tribute to forgotten women in science, while the Fighting Females show women who acted against humanitarian and environmental abuses.
"I have the urge to make a party of everything in life, put a bow around it, or decorate it, which I also recognize in the work of Preta" -Kosters
Kosters presents tapestries, drawings and soft sculptures, including a new series of works about self-love called "Quest for self-love". Those who look closely at his work notice that Kosters not only has a rebellious side, but that commitment and love form the foundation of his work.
Quest for self-love is about the importance of self-appreciation at a time when everyone is looking for validation from the outside world. Kosters also shows work from the series Tears are the glitters of life, in which the tear not only symbolizes grief but demonstrates how important it is to embrace emotions.
Duo exhibition Preta Wolzak & Bas Kosters
Exhibition: 12 February - 31 March, 2019
Museum Rijswijk, Herenstraat 67, 2282 BR Rijswijk
Open: Tuesday - Sunday 11-17
Click here for the full press release.
Click below for the large press photos: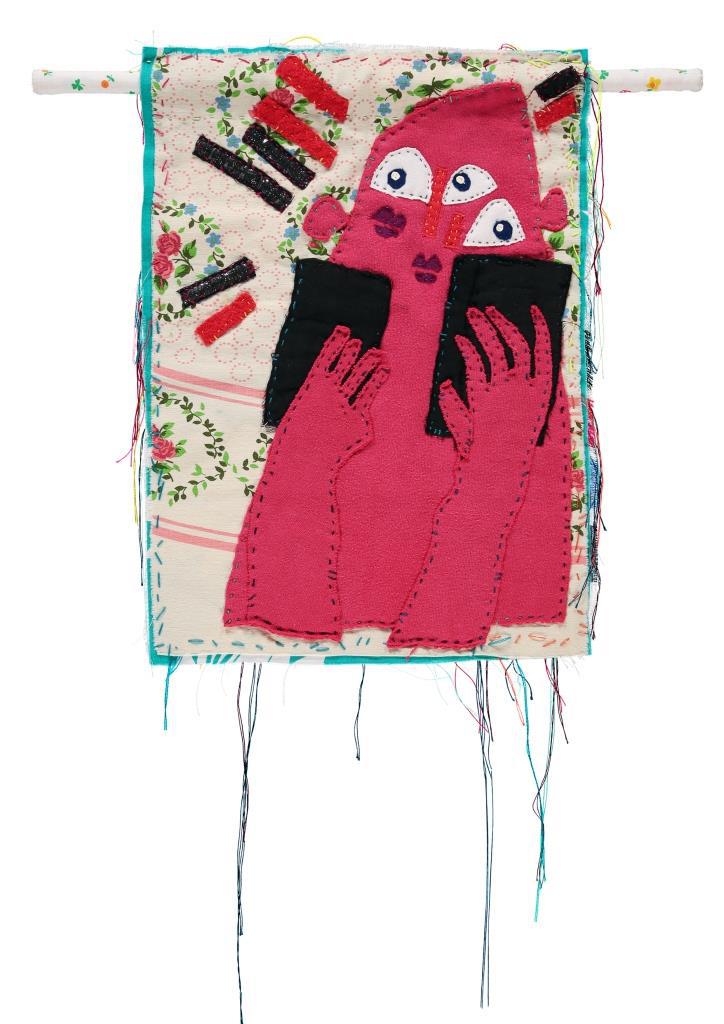 'Communication tapestry 1', 2016, textiel, Bas Kosters, Foto: Bas Kosters

'Crevasse', textiel op doek 130x140cm, Preta Wolzak, Foto: Wolzak


'Tranen zijn de glitters van het leven', textiel, Bas Kosters, Foto: Bas Kosters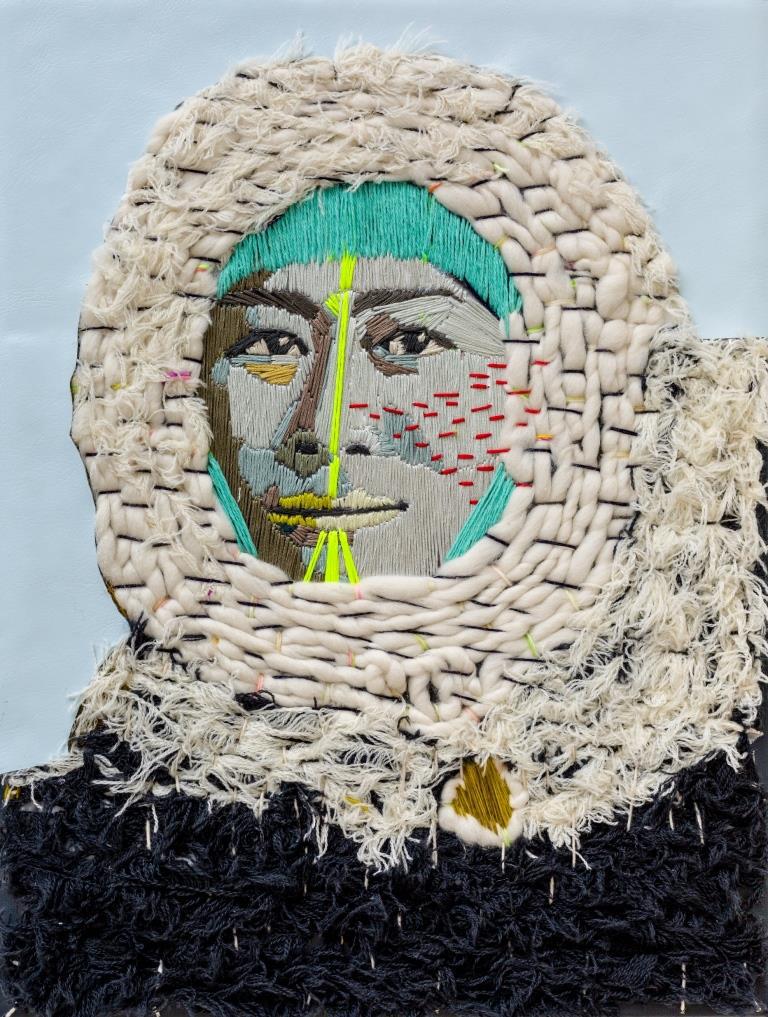 'Ma petite Inuit', textiel op doek, Preta Wolzak, Foto: Thijs Wolzak

'Breasts gone wild', textiel, Bas Kosters, Foto: Bas Kosters

'Fighting Females' textiel op doek 40x30cm, Preta Wolzak, Foto: Wolzak

Preta Wolzak & Bas Kosters Serious International Business, Foto: Wolzak
For more information, interview requests or visual material, please contact Anne Kloosterboer or Tjarda Wessels by e-mail: a.kloosterboer@museumrijswijk.nl or e-mail: tjarda@blanchetheageny.com
museumrijswijk.nl │ pretawolzak.nl │ baskosters.com
________________________________________________________________________________________________

CLOSED! Call for entries: 2019 Textile Biennial Rijswijk
The 6th international Textile Biennial Rijswijk will be held from June to November 2019. The aim of the Textile Biennial Rijswijk is to showcase the diversity and ingenuity of contemporary textile art. In order to be selected, artists have to be judged by an international selection committee after careful evaluation of their artworks presented.
Deadline: 31 August 2018
For further information contact curator Anne Kloosterboer, AnneKloosterboer@museumrijswijk.nl or +31 (0)70 390 3617
________________________________________________________________________________________________
Paper Biennial Rijswijk 2018
12 Jun - 07 Oct
Since 1996 Museum Rijswijk has hosted prestigious exhibitions on international paper art. Each show exhibits a surprising collection of artworks because contemporary art is constantly changing.
The biennials are never themed. However, the 18 international artists participating in this edition have something in common, besides the use of paper: they take inspiration from nature. This can be in physical terms, making paper from pure plant fibres – cooked, flattened, dried and, sometimes, mixed with other natural ingredients. Paper pulp might be kneaded or poured into unique shapes, and once dry, cut, folded and twisted.
Nature is also a source of inspiration in conceptual terms: odes to what nature generates, spores of change and capturing something transient.
Those who love pure abstraction will also find something in this biennial. But don't be surprised if you encounter a link to the natural environment here, too.
---
Artists
Eight of the artists are rooted in the Netherlands, while the other ten are from Europe, Japan and the United States:
---
An illustrated catalogue of the Rijswijk Paper Biennial 2018 (Dutch/English) will be available. Author: art historian Frank van der Ploeg.
True to tradition, there will be a Paper Market in the museum's courtyard on Sunday 9 September (11:00 – 5:00) and the Oude Kerk opposite (12:30-5:00).
---
Download press release Paper Biennial Rijswijk 2018
Download list of participating artists Paper Biennial Rijswijk 2018
Download captions press photos Paper Biennial Rijswijk 2018

Download press photos (high res) Paper Biennial Rijswijk 2018:
1. Aja von Loeper, Weisses Blatt XL 9
1a. Aja von Loeper, detail Weisses Blatt XL-9
2. Andrew Singleton, Fabric 1
3. Anna J. van Stuijvenberg, Hybrid
3a. Anna J. van Stuijvenberg, detail Hybrid
4 Dominique Rousseau, Stèle végétale
4a Dominique Rousseau, detail Stèle végétale
5 Jocelyn Chateauvert, Athena's Landscape
6 Jocelyn Chateauvert, Burnished Lily
7 Linda Leeuwestein, Kloof (Crevice)
8 Linda Leeuwestein, Kruispunt (Intersection)
9 Magda Sobon, Wave of longing
9a Magda Sobon, detail Wave of longing
10 Nadja Schoellhammer, Ebenbild
11 Viviane Colautti Ivanova, You, the only one I'll never know
11a Viviane Colautti Ivanova, detail You, the only one I'll never know
12 Zaida Oenema, Field 1
---
Archive